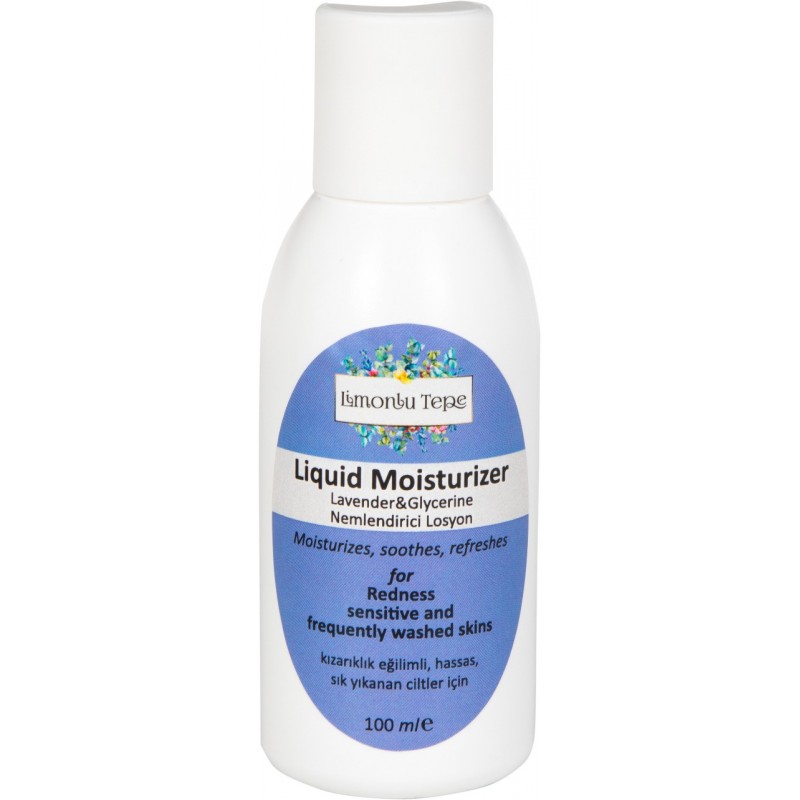 Liquid Moisturizer - Lavender Glycerin - 100 ml
It is an excellent liquid moisturizer (moisturizing lotion) made with Lavender (Lavandula Angustifolia) oil and glycerin.

For all skin types but especially for sensitive, rosacea, acne and redness prone skins.

You can use it on your entire face after cleansing.
When using for sensitive, rosacea and redness prone skins
-After cleansing the skin, apply some lotion on your face
-Then you can apply Lavender (or Frankincense) Moisturizing Cream on top of lotion.
Can be also used alone without using any moisturizing cream.
For skins with acne and pimple it is a very good stand-alone moisturizer.
Ideal for summer and hot weather, when you don't want to use even a moisturizing cream on your skin.
-Apply a little bit on your damp skin.
For skins that is in frequent contact with water,
-Where it is difficult to keep the moisturizing cream on the skin,
-Lavender Glycerine Lotion is a very practical moisturizing solution.
-Apply a small amount after washing your face.
Can also be used for your hands and your whole body.
-It is an easy quick moisturizer for hands that are constantly in contact with water, after dish-washing or washing is frequent.
A water-based lotion, containing only water, Lavender oil, vegetable glycerin and preservative for the water base.
It is not a dense milk, has the structure of light transparent water.
It does not contain synthetic colorants and synthetic perfumes. And paraben free.
How to use:

You can use Liquid Moisturizer (Lavender Glycerin Lotion) :

on your entire face, neck or entire body

You can use it for moisturizing and soothing redness on your face.

You can apply your moisturizing cream on top or use it alone.

It is enough to apply a small amount on clean skin while the skin is still moist.
Lavender:

Lavandula Angustifolia is among the most precious types of lavender in terms of oil and fragrance among other Lavenders. Besides aromatherapy, it is preferred in many cosmetic products with its antimicrobial and antifungal and soothing properties.

Limonlu Tepe products are registered in the TC Ministry of Health Product Tracking System.