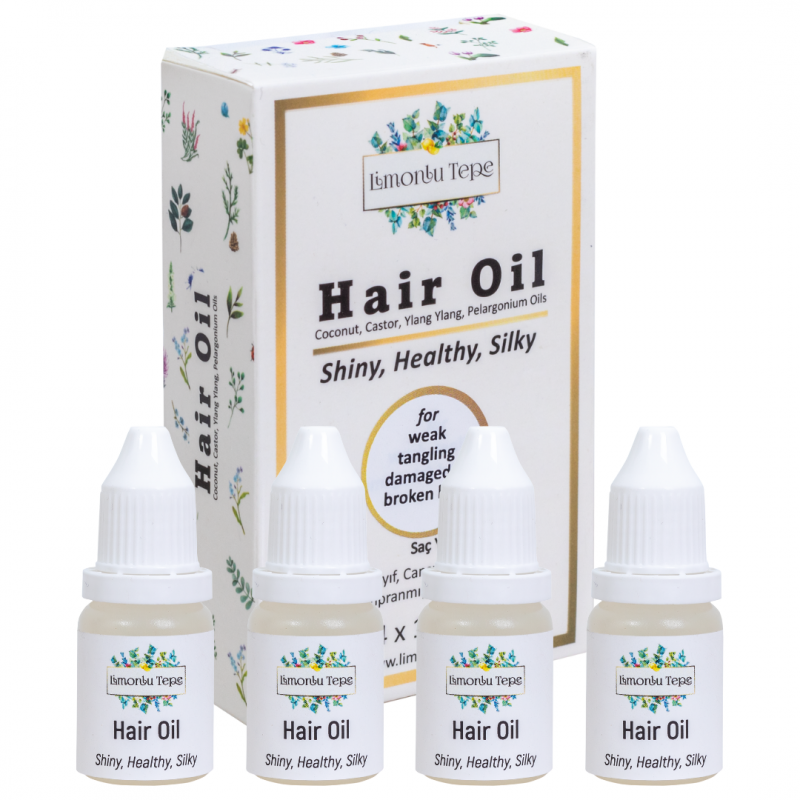 Hair Oil – (4 x 10ml)
• Produced with coconut oil, castor oil, ylang ylang, geranium oils and vitamin E.
• For weak, tangled, damaged hair and split ends.
• It nourishes, moisturizes, revitalizes the hair, unlocks the tangled hair, camouflages the split ends.
• It is applied to dry hair from root to tip by massaging the scalp.
• It does not contain synthetic colorants and perfumes, does not contain silicone, paraben.
• Weekly regular use is recommended.
• It is suitable for all hair types. It can be used by women and men.
You can use Hair Oil for
• Shiny, healthy, silky looking hair
• Detangling locks
• Nourishing and strengthening hair strands that have been damaged by heat or chemical applications.
• It is applied to dry hair and scalp by massage.
• Gently apply along the hair shaft from root to tip.
• For tangled hair, you can use a few drops more on the locks.
• Leave for at least 15 minutes and leave it overnight for best results.
• Rinse thoroughly with warm water before shampooing.
It is effective against drying by reducing the loss of moisture of the hair.
Castor oil, which has been an indispensable part of hair care since ancient times, is used on the scalp against dandruff. It is highly effective for healthy growth of hair along with the healthy development of hair follicles.
It is known as the most effective oil for preventing hair loss and hair breakage. It balances the oiliness of the hair.
In addition to its pleasant smell, it helps hair grow healthy by balancing sebum production.
Limonlu Tepe products are registered in the TR Ministry of Health Product Tracking System.